Black Creek Services, Inc. 904.449.3986 provides portable generator repair and maintenance service in the Jacksonville Florida area.
Black Creek Services Inc. is a professional small engine repair service, located in Middleburg, Florida. We provide professional in-shop maintenance and repair for Emergency Portable Generators.
Call 904.449.3986 to make an appointment to drop off your small engine powered Lawn Mower, Lawn Tractor, Portable Generator, or Pressure Washer at our Middleburg, Florida shop. We can provide pickup and delivery service for clients in our service area.
Some people enjoy the reassurance of having their own portable generators to provide electricity for their homes if the electrical service is interrupted by a storm or other event.
Some people use portable generators to provide electrical power in remote locations and on job sites.
Still other people need portable generators for life support equipment in their homes, or to provide a backup for electrical service at their business.
In Florida, from June until November is Hurricane Season, and many people count on their portable generators to provide electricity if the power lines are damaged.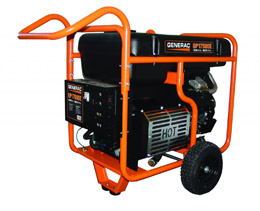 No one wants to find out that their portable generator isn't working when they need it. That is why we recommend periodically starting and running your portable generators (outside) to make sure they are providing the power you count on, and we recommend an annual tune-up of the small engine that powers your generator, to give you the confidence that you are prepared.
We have established a reputation for quality prompt and reliable service, for the satisfaction of our customers.
Black Creek Services is located in Middleburg, Florida. We also provide Portable Generator Repair and maintenance service for surrounding areas like Fleming Island, Orange Park, Jacksonville, and Green Cove Springs, Florida.
We do reliable in-shop maintenance and repair of power equipment small engines in Portable Generators, Pressure Washers, Lawn Mowers, and more.  We provide pickup and delivery – prompt and efficient service.
Make sure your portable generator is ready to provide you electrical power when you need it! Call Black Creek Services, Inc.  904.449.3986.