Regular lawn mower maintenance helps prevent problems, and lengthens the life of your lawn equipment. But even with regular maintenance, there can still be surprises.
* * Before you start to work on your lawn mower or lawn tractor, remember to Always review and refer to the operator's manual for guidance specific to your lawn equipment.
Here are 4 quick steps to get you going again:
1.  If the Starter Rope on the engine of your lawn mower is hard to pull, or seems to be stuck,
your engine flywheel brake (usually a bar on the handle of your lawn mower) may not be fully depressed when you try to pull the rope
could be your mower blade is too close to the ground and dragging in tall grass (move to a flat, hard surface like a sidewalk or driveway)
your mower deck may be clogged with grass clippings (turn your mower OFF, disconnect the spark plug, and then remove the grass clippings)
> > If you have a Battery Started lawn mower or lawn tractor, and nothing happens when your turn the key, your battery may need to be re-charged or replaced.
2. When's the last time you cleaned or replaced your Air Filter? Your air filter should be replaced or properly cleaned at least once each mowing season (which can mean once each year, here in Florida, where some of us have to mow our lawns all year around). Take a look at your air filter, if it looks like time for a change or cleaning, it's time.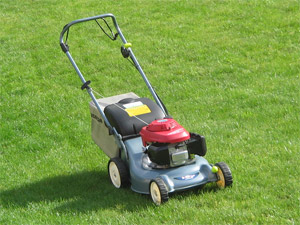 3. The problem may be in your Gas Tank. (Ethanol/Gasoline blend fuel goes "stale" in about 30 days, according to the technical advice of Briggs & Stratton.) If you don't use a fuel treatment like Briggs & Stratton Advanced Formula Fuel Treatment, replace the gas in your tank with fresh fuel.
4. Check your Spark Plug. Good maintenance practice is to replace the spark plug in your mower each year. If you already replaced your spark plug this year, check it for being fouled/dirty, loose, or even a spark plug wire that's disconnected.
If you try these quick steps, and you still can't start your lawn mower or lawn tractor, call Black Creek Services 904.449.3986. We may be able to provide a suggestion to get you started again, over the phone.
If you need help to work on your mower, Black Creek Services does maintenance and repairs in our Middleburg, Florida shop.
Call 904.449.3986 to make an appointment to bring your lawn mower or lawn tractor to our shop.
OR we can provide pickup and delivery service.
Black Creek Services uses quality parts and materials during small engine maintenance service and any repairs. Black Creek Services, Inc. has built a reputation for providing reliable, quality small engine service for people living in Middleburg, Fleming Island, Orange Park, Green Cove Springs, and all around the Jacksonville area, and we want to keep it that way.
When you are having a problem starting your lawn mower or lawn tractor, Contact Black Creek Services, Inc. or give us a Call 904.449.3986.