Here in Northeast Florida, we usually have mild winters, and many of us don't even stop using our outdoor power equipment through the winter months for fall power equipment care.
For example:
the lawn grows uneven and shaggy looking
warmer days offer an opportunity to pressure wash our home, patio, driveway, or other outdoor items
portable generators need to be run periodically to assure they are ready for use in an emergency
But if you are done with your outdoor power equipment until the Bermuda grass starts turning green again in the spring, the main thing you need to remember is to add Briggs & Stratton Advanced Formula Fuel Treatment to your gas tank.
the first step in any small engine maintenance is to review the instructions in your power equipment Owners Manual
next, run your lawn mower, lawn tractor, or pressure washer (outside) to get the fuel additives and preservatives that protect your small engine from the effects of ethanol damage through your engine fuel system
and last but not least, top off your fuel tank to prevent accumulation of moisture that could lead to corrosion
If you don't have the time to do this maintenance on your:
lawn mower
lawn tractor
portable generator
pressure washer
just give Black Creek Services a call at 904.449.3986. We can help you keep your small engine-powered equipment maintained for a fair and reasonable price.
Pickup and delivery service is available, too!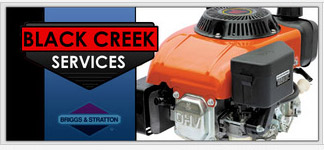 When springtime rolls around, we can also help you make sure your outdoor power equipment is ready for a busy season with a Springtime Small Engine Maintenance Service.
Black Creek Services, Inc. offers in-shop lawn mower and lawn tractor maintenance and repair for clients in the Jacksonville Florida area. For examples, we're talking Jacksonville, Orange Park, Fleming Island, Green Cove Springs, and Middleburg, Florida.
We work in our Middleburg, Florida shop, where you can bring your lawn mower or lawn tractor by appointment ( just call us at 904.449.3986 to make an appointment) OR we can provide pickup and delivery service.
If you have questions, please call us 904.449.3986 or use our contact form to Contact Black Creek Services. We like to help people get their small engine-powered outdoor equipment running right again!